Trolley
An emotional tour round Alghero's beaches: Mugoni
Just think of a Caribbean beach in your mind's eye. Stretches of pure fine white sand, turquoise blue crystal-clear waters.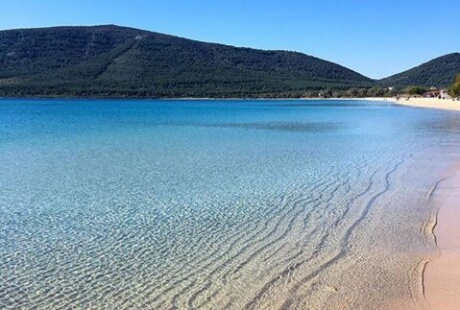 Fine, remove the palm trees behind you (and the sharks!) and in place of the palms put a large stand of pine trees – a "pineta" in Italian. Perfect, now you have the Mugoni Beach.
In our emotional tour through Alghero's most beautiful beaches, today we're touching on Mugoni, which is to the east of Porto Conte. Easy to reach – just take SP 55 and 8 km before Capo Caccia, on the left, you'll find the signpost pointing the way to the beach. So no hassle to reach it as it sometimes happens for other charming but isolated bays. And that's the beauty of Mugoni – easy to reach and easy to access, also for the disabled, with parking space not far from the beach and, what's more, as we've described above it's a pleasing sort of space-time paradox: the tropics transplanted to the Mediterranean.
The long crescent formed by the beach is framed by the thick pinewood to its rear, which releases a pleasant scent of resin and offers shelter from the sun, where a short nap beckons – and carries you back in time to a peaceful pre-human time. But similes aside, Mugoni is truly relaxing. What's more, it takes its name from a large farming estate, active up to the 1950s, which stretches just behind the beach. Remember that Sardinia thrives on this continual symbiosis between sea and land, and wherever possible it will remind you of this.
The fact that the beach is easy to reach might worry you from a certain point of view: and if it were teeming with bathers? Let's hope it's not full of rowdy pleasure seekers? No, because unlike other beaches, Mugoni is very large and although well frequented, it never fills up completely. So, if you're feeling sociable, a trait which marks most human beings, you can prove this by laying down your towel in the more frequented stretches of the beach. On the other hand, if you are more inclined to find human sociableness unsociable, you can search out your own corner, solitary and meditative, of Mugoni.
But whatever your anthropological leanings, assuredly there will come a time when you feel hungry. Have no fear – Mugoni offers several eateries, famous for their grilled fish and barbecued steaks.
A word of advice as to the best times to visit the beach ? For example on windy days because it is sheltered and its shape protects it from strong currents and waves. And try to be there at sunset, when the fine white sand is ready to receive and enhance all the colours the sun has decided to flaunt and fragments of the day float serenely on the transparent waters.