Trolley
Fertilia and Buffalo Bill
If you come to Alghero by air you will pass through Fertilia, the small village near the airport linking so many Italian and foreign cities to our territory.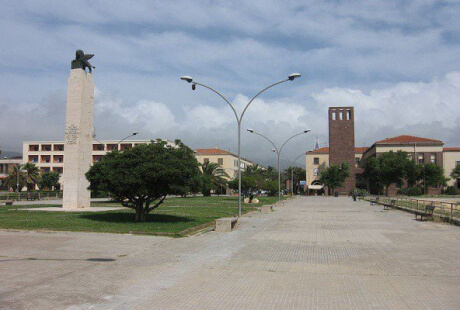 Fertilia is worth a stroll, above all to experience an excellent example of the Modern Movement in architecture: functionality, clean lines, beauty integrated in the purpose the building was designed to fulfil.
But Fertilia is worthy of note for its history too. This small town came into being from the reclamation of a territory which was marshy and unhealthy, infested with mosquitoes and rife with malaria. The reclamation of the area was set in hand by the Ente Ferrarese di Colonizzazione, established by Mussolini on 7 October 1933. The hamlet was officially inaugurated on 8 March 1936, when the foundation stone of the church was laid.
The first inhabitants of Fertilia were colonists from Ferrara, in northern Italy. Then World War 2 broke out and the growth of the small settlement was placed on hold. At the end of the war there was a new influx of people, this time fugitives from Istria and Dalmatia, fleeing from Tito. When you are forced to leave a place you love, the only solution is to bring that place with you; so it was logical for the newcomers to name the streets of Fertilia after places and events from Veneto and Venezia Giulia and thus the village is dotted with references to that world and those events.
This is what makes Fertilia important and worthy of note: the fact that it expresses a pioneering sense of life. It may be compared, on a far smaller scale of course, with what happened in the great saga of the Wild West - at Fertilia too men and women conquered by hard labour lands which were hostile and inhospitable. These settlers reclaimed from the mire and insects the land on which to build their houses and sow their fields; they had been forced to leave their homeland not just to move to another, but literally to invent another, to create it from scratch.
So Fertilia can be seen as the result of steely determination and its name – invented by Mussolini – is very true: it is based on will alone that our existence becomes fertile, that is brimming with possibilities which are not present in nature.