Trolley
Five places not to be missed near Alghero
Staying in Alghero means being like a spider at the centre of a web of attractions and opportunities.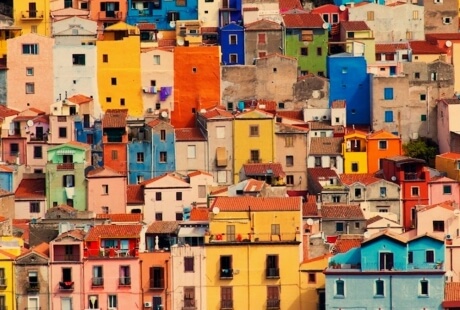 we can scuttle rapidly along the web's threads to reach and enjoy the beautiful places it has trapped and savour them. Pardon the yucky metaphor: we should never deny the grosser aspects of the sublime if we wish to experience all its nuances. So, let's continue to be clear and blunt spoken and we'll give you our list of the five most beautiful places to be visited round Alghero. We could quote a thousand others and indeed we have mentioned a thousand others in our blog, so we suggest you go back and consult it for a complete overview.

5. Sassari. "Seat of the University, the Archbishopric and a Section of the Court of Appeals, the fifth Italian municipality in terms of size and the second largest city in Sardinia as to population, Sassari is the heart of a vast area of some 260,000 inhabitants". Thus the first lines of the Wikipedia entry. Please forgive us for borrowing this description but we could not describe in a few lines the city's exceptional artistic, social and cultural heritage. Distance Alghero-Sassari: 37 km; travel time: 35 min.

4. The Butterfly House of Olmedo. Just where is Eden? A question long debated and with many solutions offered. But the true answer is that it is just outside Olmedo: it's the Butterfly House, a sub-tropical garden created within a biosphere. Here flutter and breed about 400 species of butterflies, a wonderful kaleidoscope of colours and mysterious geometrical shapes. A haven not to be missed if you want to learn to respect the fragile, dust-covered wings nature has provided. Distance Alghero-Olmedo: 14 km; travel time: 17 min.

3. Castelsardo. Set right in the centre of the Gulf of Asinara, Castelsardo is a delightful hilltop town perched high above the sea. In a way, it symbolises Sardinia, which you must patiently place under siege if you hope one day to conquer it. There is something so evident and revealed, yet so protected and encircled in the beauty of this town, that it will take your heart a few minutes to fully understand what your eyes are seeing. A similar experience is provided by the famous elephant rock of Castelfranco, a cloud of stone in which you can imagine a huge pachyderm. Distance Alghero-Castelsardo: 71 km; travel time: 1 hr 5 min.

2. Bosa. Colours set on colours, bright, shining colours overlaid and set out on the side of the hill of Serravalle. This is the first, extraordinary on reaching Bosa, with its huddle of brightly coloured little houses. This architectural rainbow is reflected in the sleepy waters of the river Temo, the only navigable river in Sardinia, and is lit up by the surrounding landscape, rich in bays and Mediterranean maquis, home to no less than 58 protected bird species, including the imposing gryphon vulture. Distance Alghero-Bosa: 46 km; travel time: 56 min.

1. Stintino. A tuna fishery, a hard life, a sea life, a lazaretto, a penal colony, "isthintìnu" or "sthintìnu", in the dialect of Sassari meaning 'intestine' or 'loop'. And talking of Stintino, we prefer to start from this not exactly poetic association of ideas to give you the true dimension of its history and people, which is not limited to the incredibly crystal-clear waters of La Pelosa, or the grains of white quartz sand of Le Saline, or the emerald sea of Cala Coscia di Donna. Distance Alghero-Stintino: 46 km; travel time: 47 min.

So what is the distance from Alghero to a perfect holiday? Why, no distance at all!