Trolley
The Bonfire of San Giovanni and the burning summer
In fire we are purified and become part of the sacred: a concept as old as the world.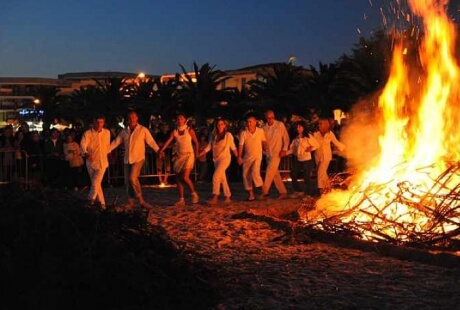 Among the ancient peoples, the holocaust, which literally means "everything burnt", required the sacrificial victims to be entirely consumed by the flames, so that since they had been consecrated entirely to the god, they might join with the deity in the form of smoke. Fire transforms matter into something more subtle, light and ethereal, and as such able to reach the invisible celestial beings such as the gods. The idea that the bonfire places us in contact with another dimension, opens a door on transcendental and otherwise inaccessible realities, is what draws us like a magnet to gather round the flames like a horde of excited moths.
This evening you can experience this electrifying ancestral imprinting on the beach of San Giovanni, where at 9 pm will be lit the traditional Fuoco di San Giovanni, an event which marks the start of Alghero's summer, projecting it towards the sky. This ritual has some sacred elements, such as the purification rite by means of which the "compari" and "comari", the male and female participants, holding hands, go to bathe their feet at the seashore. Water and fire – the two essential ingredients in every myth of the origins worthy of the name. After being purified, they can set their hands to the fire and with that, to smoke, its "flickering brother", as Aeschylus called it. The rite of the Bonfire of San Giovanni also requires that some volunteer adepts leap over it – a proof of courage, but also a dedication of themselves to the celestial sphere, because in the moment of the leap they join with the flames and smoke and thus reach the sacred.
Standing near such a vertical vortex of light and flames is certainly the best place to attempt to divine the future, to seize some information from the most obscure of all time dimensions. Some do it by reading coffee grounds or tea leaves, or by dripping oil into water, here at Alghero we prefer to consult molten lead and its dripping rivulets. The San Giovanni bonfire dissolves that which has been written and re-writes it: reading the future, as all forms of reading, means transforming by interpretation what we read.
But this evening, if not the future, we can at least gather a truth on the present. That is, that the present is already summer and that summer is an amazing mystery filled with light.