Trolley
From Alghero to Bosa: a sequence of beauty spots
Sardinia teaches us that beauty is a maze – to find it you have to walk long and hard, halt at numerous crossroads, mistake your road, turn back, make your glances keen and ingenious, avoid nothing, not even the faintest of signs, the most distant pathways.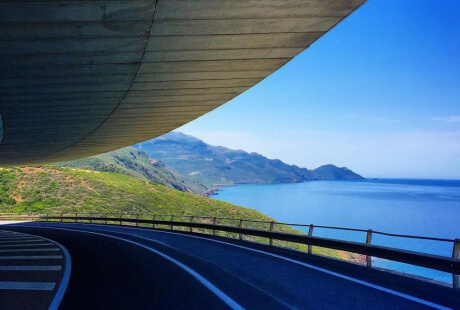 So what we have to do is choose one and follow it to the end, never mind how narrow, uncomfortable or insignificant it might appear to be in the beginning. If we manage to overcome the discouragement of tiredness and pessimism, at the end of that donkey track we may well be repaid by the opening out of a sublime and solitary scenic view, food for our amazed eyes.
One of the best examples is the route from Alghero to Bosa, 46 km to the south of our city. While Bosa is a charming small town well worth the trip on its own, the road leading to it from Alghero is dotted with magnificent bays, each of which deserves a visit.
First, we come to Cala Ittiri, perhaps the most beautiful cove in the whole of western Sardinia: a sea with stunning shades from emerald green to turquoise to blue. A true paradise but as all such places not easy to reach overland: make up your mind to trek for about 20 minutes along a track which is not exactly smooth. The good thing is that this means it's certainly not crowded in the summer.
And what about the others? Cala Bernardu, Cala Giuncheza, Cala di Santa Maria, small beaches set amidst splendid scenery with rocks and cliffs moulded by wind and weather into unexpected shapes, at times wild and rugged, at others sinuous and smooth. These are places which basically belong to the idea of 'farawayness': distant by definition, from civilisation at its last gasp, from confusing historical events, from all miserable human fatigue, suspended as if in a time of purely slow geology in which 'becoming' is imperceptible with the naked eye.
And finally we come to Bosa, the only town in Sardinia set on a river estuary, the Temo, romantic and sleepy, whose banks are linked by a splendid three-arched bridge, one of the most beautiful in Italy. On the southern bank of the Temo you will find the old leather works at one time famous for the production of high-quality goods and now transformed into a fascinating museum which you shouldn't miss, because it tells the fascinating tale of this old craft, an excellence alas now lost to us. Perhaps it was due to this break in its economic life that Bosa has preserved almost intact the atmosphere which in the early 20th century marked the towns and villages of our island. Here time stands still and the historic centre perched on the slopes of the hill of Serravalle, with its close-packed houses with their bright plasterwork, will give you the impression that from the summit of the hill all the colours of a naïf artist have poured down.
Just 46 km from Alghero to Bosa: but to fully experience the beauty you encounter along the way, you could spend your whole life on this journey. The best of all possible lives, we think.