Trolley
From Alghero to Stintino
Would you ever dream of sunbathing and swimming in a place called "intestine" or "guts"? Probably not, probably you would prefer to go elsewhere.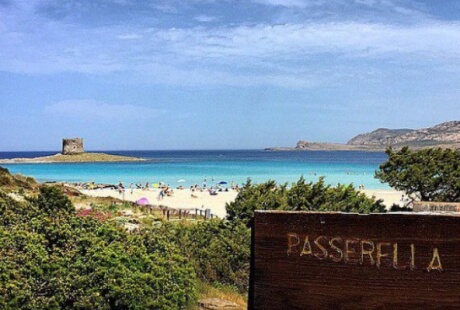 The word for intestine or guts in the Sardinian language is "Istintinu", or, at Sassari, "isthintini". Well, this word is the source of the place-name Stintino, but I certainly hope this won't put you off enjoying the beautiful beaches of this resort.
Anyway, why this name? The Sardinians have a very earthy language, and the long strip of land marked by two deep bays, on which on 15 August 1885 the town of Stintino was founded, looked to them like the intestines of a fish gutted on the seashore. Indeed, there is more to this place than stunning beaches with fine white sand and turquoise waters. The history of Stintino has its own hardness, a roughness which stems from human actions and their material weight, in contrast to the divine beauty of its magnificent views.
This is the story of 54 families who used to live on the Island of Asinara: half of them were fishermen originally from Camogli and Ponza, the other half Sardinian shepherds and farmers. Five hundred souls in all, a simple, hard life spent under the various governments which came and went with the seasons, at least until 22 June 1885, when the state decided to transform Asinara into a penal colony and a maritime quarantine station.
The immediate consequence was that the families were forced to leave the island of Asinara, abandoning everything. Yes, but where to go? and by what means? So 45 of the 54 families of Asinara formed a union which protested loudly, until the State agreed to make a deal with them. Eventually, they obtained a gift in money of 750 lire and the chance to choose a new home.
The government offered them a choice between the bay of Porto Conte, and the Isthintini, near the Tonnara Salt Flats". The 45 families chose the Isthintini, where they could fish for tuna and from where dear old Asinara was still visible, when they felt nostalgia for the land where their fathers were buried, or anger for having been driven away from it.
Alghero is just 54 km from Stintino, less than an hour's drive. As you drive along the road anxious to fill your eyes with the shining emerald waters of Pelosa beach, just think a little of these ancient events, of the grief and obstinate pride of those families who, uprooted from Asinara, obtained Stintino. Then perhaps you will be able to admit that such a splendid place is deep down just what its name indicates: an intestine, that is a vital container of intriguing stories both personal and collective, and not just another scenic spot for photos to show your friends.