Trolley
Groove at Casa Manno: the most rhythmic Cap d'Any in history
Today, we'll start with a confession – it's difficult for us to write this: feet beating out rhythm on the floor, heads flicking backwards and forwards, wavering on our chairs.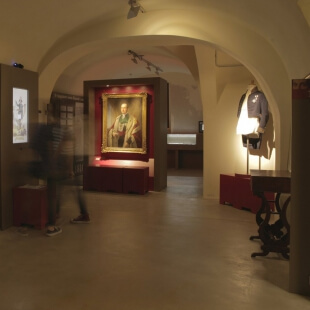 What we want to do is describe a great initiative set in the rich programme of Cap d'Any 2016: "Groove at Casa Manno", seven meetings with seven legendary drummers. We've already mentioned John Bonham and Keith Moon – today we want to talk about Jeff Porcaro, followed tomorrow by Neil Peart, on 19 December by Cozy Powell, on 2 January by Deen Castronovo, and closing up on 5 January with Vinnie Paul.

Just why with all the events available are we highlighting this one? Well, first of all because it offers a great opportunity to visit Casa Manno, a museum (as well as a research centre on modern and contemporary history) just reopened after in-depth refurbishment. Casa Manno is without any doubt one of the venues giving Alghero its particular identity, its distinctive and original cultural life.

But there's something else – we feel it's interesting that a museum should dedicate its spaces to that component of music which, to a certain extent, lies before or under music itself. That is, before a melody was born and harmony emerged, before songs burst forth from the heart and the strings of some instrument vibrated in harmony – before all this there was rhythm, there was a sound structured by pauses, there was a drum imprisoning time and giving it a certain pace, altering its normal continuity.

So "Groove at Casa Manno" tells the tale of art and life, often adventurous, of some of the greatest drummers in history. The astonishingly elaborate technique by means of which these masters of percussion have managed to give us a more complex perception of the mostly unappreciated and ordinary phenomenon of "time" corresponds to little known, unperceived existential events. If you think about it, it's quite obvious this should be so: the groove that you feel in your belly, that shakes your brain and makes it impossible to sit still on your chair comes from well beyond the stage. Think of it as a fragment of some original cosmic catastrophe which, all of a sudden, crumbles timeless eternity into a shower of frenzied rhythmic cells, a tempest, and hence creates the world.