Trolley
The Italy Sardinia Rally: 11-14 June 2015
Four days to cover 1,565.70 km, including more than 400 km on dirt roads: a true contemporary epic, this is the Italy Sardinia Rally.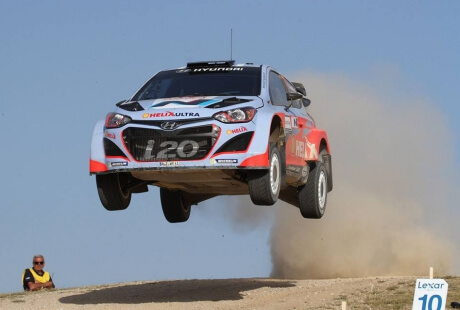 Departure on 11 June from Cagliari, arrival on 14 June at Alghero, which will also host the technical assistance and coordination centre for the whole event.
Over this period, the event will touch on all the provinces of Sardinia: so the island will be shaken to its foundations by the furious roar of engines and the shriek of tires ravenous for black top and gravel. Shaken and yet at the same time exalted because this island also lives for burning passions, daring feats, emotional spins.
Sardinia is an island driven daringly by God along the tortuous roads of beauty, and if you believe that the sublime can be discovered only in unmoving contemplation, we invite you to reflect on how adventurous, risky and daunting were the intellectual journeys of those who throughout history have left us something good to read, to look at and to feel.
At all events, here at Alghero you will be able to savour not only the conclusion of this great car race which is so exhausting for the drivers, but also the excitement which accompanies the world of racing: the flurry of activity, the thrill, the endless work to fix glitches (the only things in the world which are sure to happen).
Since Alghero will host the technical assistance operations and the event as a whole, for four days it will show a different face from its usual one: on the streets you may well come across desperate mechanics, hysteric team managers, salesman of spares, event judges as deep in doubt as Hamlet. All this lively frenzy will dissolve like a loosely made knot on 14 June on the podium near the Bastions, where a bottle of champagne will be uncorked to cool down our overheated, fast-beating hearts.