Trolley
Is Arutas: geometries of quartz
Tiny spheres of quartz – white, green, pink, perfectly smooth, millions and millions of quartz spheres.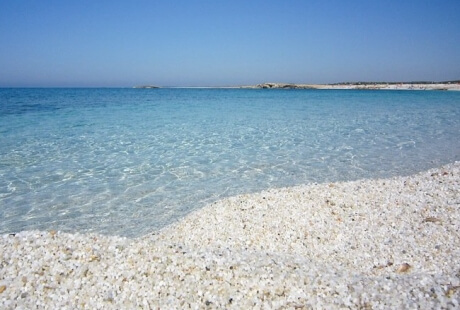 It could be the surface of some far off alien planet, but no, it's the beach of Is Arutas, in the territory of Cabras, in the Marine Protected Area of the Sinis Peninsula. Despite being in our well-loved Sardinia, we get the impression of having crossed a space-time portal, of having entered another dimension marked only by beauty and characterised by exquisite hues and shapes. This expanse of quartz spheres, resembling shining grains of rice ready for pouring into the pot, is washed by a deep, emerald-green sea, which offshore turns into azure and a more intense blue. It is home to friendly, curious fish, which approach intruders as the mute bearers of messages that we shall never understand, mysteries which the sea entrusts to them, safe in the knowledge they will never be revealed.
Indeed, lying down on the quartz of Is Arutas gives us the impression of floating, as if we were supported by a precious geological sea; we are almost reluctant to tread on such splendour. Who would ever dare to walk over a bed of diamonds? Beauty is inherently sacred; it induces respect and inspires holy rituals. But, alas, not everyone is sensitive to the call of the sacred and it frequently happens that the quartz is stolen by inconsiderate individuals who fill plastic bottles with it to carry it home as a souvenir. This practice, apart from being downright stupid is also illegal and may lead to unpleasant consequences. There have been quite a few cases of sand seized at the airport. Rather, let us leave the quartz to the sublime fate which has polished it grain by grain; let us collaborate with the art of the divine.