Trolley
Lepidurus apus lubbocki
What about the title of this post? It's a magic spell. It conjures up a mythological beast with extraordinary powers.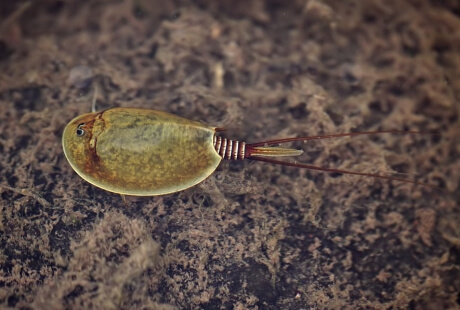 All right, we're just joking. Lepidurus apus lubbocki is the scientific name of the tadpole shrimp, a crustacean which (together with the better-known and cuter wild horses) lives on the Giara di Gesturi, a great basalt upland in central-southern Sardinia. The most fascinating characteristic of this animal is that it's an archaic crustacean, which has remained just as it was 200 million years ago. This living fossil inhabits the paùli, which are a typical feature of the Giara, shallow rainwater ponds offering an ideal habitat to many animals, including our Lepidurus.

We're certainly not expecting to draw hosts of visitors to Sardinia just to admire this primordial crustacean, which undoubtedly has the fascination of the dinosaur but also – let's admit it – the same unappealing looks. Its shield-shaped carapace, three eyes, a scale at the end of the body and two caudal filaments are not particularly endearing details. The Lepidurus could never hope to rival the popularity of cats on Facebook.

Nevertheless, this small creature can still be a convincing symbol of what Sardinia has to offer. Perhaps here in Sardinia you too can find your paùli, the ideal pond in which to preserve intact those parts of yourself which, for some reason, you want to save from the implacable demon of change. The eggs of our obstinate crustacean can withstand temperatures of up to 80 °C and can pass through the digestive system of a frog unscathed. Our land too is an invincible egg; it is the Lepidurus which slides unchanged through the tumultuous foam of the years. But in these dramatic days of the quake in central Italy, this ancient shrimp also tells us that some things can remain unchanged, true to themselves, despite the tremors and quakes that seem bent on shaking and erasing us.