Trolley
Wandering through time: Barumini
Barumini: one place you absolutely must visit, if you want to be a time traveler and find out about some of the earliest peoples of Sardinia.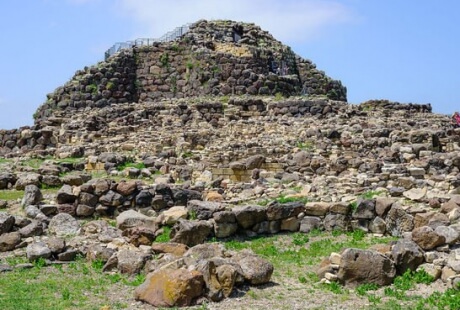 Paradoxically, Barumini lies in the Province of Southern Sardinia, the youngest province in Italy (founded on 4 February 2016). Just one more reason to go there if you're fond of space-time paradoxes and science fiction.

In modern times, 1971 was the year that Barumini clocked its highest population with 1,729 inhabitants recorded in the census. Today, there should be about 1,300. But this does not matter: while the town admittedly has a small population, on the other hand it has the distinction of having been inhabited since the dawn of time. Indeed, in Barumini you will find Su Nuraxi, the most important Nuragic complex in Sardinia and since 1997 a UNESCO World Heritage site. Its origins date back to the 16th-14th century BC. Bruno Zevi spoke of Sardinia's ancient fortresses as displaying "dissonant roughness" and an "anticlassical Barbarian Order". Be as it may, the anticlassical magnificence of this monument will renew you entirely, leaving you speechless, floating on the surface of an ontological rather than archaeological landscape.

After visiting Su Nuraxi, you can retrace history by visiting a timeline of monuments – the church of San Nicola (11th – 12th centuries), that of San Giovanni (13th century), the church of the Immaculate Conception and the really tiny church of Santa Lucia (both dating from the 16th century), that of San Francesco (17th century) and finally that of Santa Tecla, rebuilt in the 19th century. But as you move towards the present, beware of the Zapata palace which stands on a hillock in Barumini. While this noble mansion was erected in the 18th century (so, a comparatively recent building), excavation works in its interior have unearthed the well-preserved remains of another extremely ancient Nuragic settlement, so visiting the building will once again take you back to the dawn of time. But perhaps living in a world infinitely younger than our present world might seem to you – as it does to us – a temptation both difficult and foolish to resist!