Trolley
Paella in Alghero
 In 2003, Alghero celebrated its 900th birthday!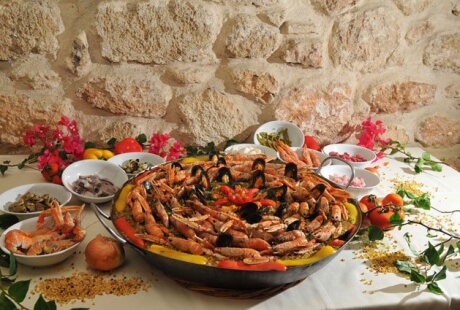 With this year-counting we worked up an appetite, so we thought we'd invent a new dish to mark the occasion. Naturally, it would have to be a dish able to reflect a long history, and since Alghero has close links to Catalan culture, paella seemed the obvious choice – yes, paella revisited in Alghero key!

The most important novelty was the replacing of the rice of the Spanish version with the typical Sardinian durum wheat pasta known as fregola, or fregula, or suc in Catalan, or yet again succu (here in Sardinia and especially in Alghero many things have more than one name, which goes to make us a truly free people). And when we finished making it with mussels, calamari, king prawns, chicken, fresh sausage, peppers, peas, saffron etc., we had the flash of genius of dusting it liberally with bottarga (grated dried mullet roe). The dish was ready – gleaming like polished coral.

Now we could give you the exact recipe – but what for? This dish can only be said to be the paella Algherese if it is prepared with ingredients from the area, thanks to the work of our fishermen, our farmers, our pasta-makers and our cooks, and above all if it is eaten in front of the sea that supplied some of its main ingredients. Only in this way, the tastes and flavours in your mouth will place you in contact with the world around you. Truly being in a place means being that place. So, the invitation is: come and taste Alghero.
Photo courtesy of La Pergola Restaurant