Trolley
Paolo Fresu: the art of fleeing and returning
Berchidda: a village of the Sardinian hinterland, in the province of Olbia-Tempio, not even 3000 inhabitants perched at 300 m above sea level, at the foot of the Limbara mountain chain, with Punta Sa Berritta reaching the maximum height of 1,362 m.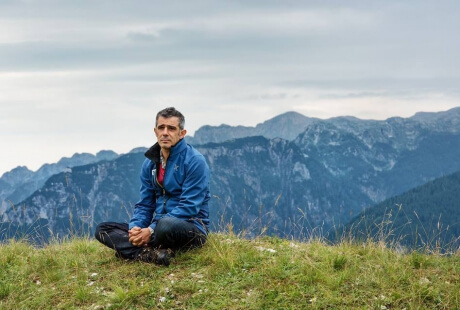 Mean temperature: 15°C. Somewhat damp, due to the vicinity of nearby Lake Coghinas, so much so that some days Berchidda is swathed in a mist, ideal for seeing things which don't exist and for not seeing those which do.
And this is the birthplace of one of the greatest Italian jazz players, Paolo Fresu, and above all it's here that he always returns after his long trips round the world to follow the music which already exists in the world and which his trumpet manages to capture alive, only to release it right after, to be heard by all. When they asked him about the moment when he realized he had achieved his dream, Fresu replied that it was when the inhabitants of his village began to ask him, on his return from his trips, how things had gone, and above all when he would be setting off again. At that point in time he realized he had become a musician.
Don't you find it a strange and disconcerting answer? A more predictable answer to the question 'when did you realise you had become a musician' would have been something like, 'when I held my first concert, when I made my first record, the first time I got a review'. Instead, he realised he'd made it from the questions of his townspeople about his trips, departures and returns. Exactly what does this mean?
It's very likely that Fresu was referring to the musing, digressive quality of that sort of question. Let's consider the people who asked that question, who are considerably less prosaic than they seem. They are those who remain. Some people remain all their life in their place of birth: they become almost indistinguishable from their roots, with a family, friends, a job and finally a grave in the same place where they spent all their life. At the end of their life journey, they will have become a part of the village or town and its history almost in a geological sense, just as the mountain peak of Sa Berritta forms a part of the horizon of Berchidda.
Those who remain, that is those who remain in that particularly strong sense, will often linger to chat with those whose destiny it is to leave. So, they stop the returnee with a smile, asking him for information, the description of an episode, a detail and above all to find out when he's leaving again. What exactly are they asking for? They're trying to borrow the eyes of their wandering fellow-citizen, through which to spy what stretches beyond the mountains or the fog, when everything blends and you don't even know where you are. They're asking about the imaginary matter with which to formulate vague and inconclusive ideas, which for them are a precious consolation, such as: "One day, me too"…"When I'm born again"… Thoughts which are of no use for departure, but rather for remaining, assuaging the feeling of being tied down to their hometown.
That's why Fresu understood from this question that he had become the musician he dreamt of becoming. Indeed what is an artist if not someone who loans his eyes? Someone who travels for us too, to bring back to us treasures found during his trips, trips which we shall never make? Who in particular is Paolo Fresu if not a musician able to push back with the crystal-clear notes of his trumpet the boundaries surrounding us , so that with closed eyes we can wander through new territories of representation and the imaginary? The return is the generous grateful gift of he who leaves to those who have stayed put. Fresu's music is a constant return linked to this untiring departure.