Trolley
Porto Torres and the Eternal Return
Porto Torres, less than 47 km from Alghero, is a town with a long and fascinating history.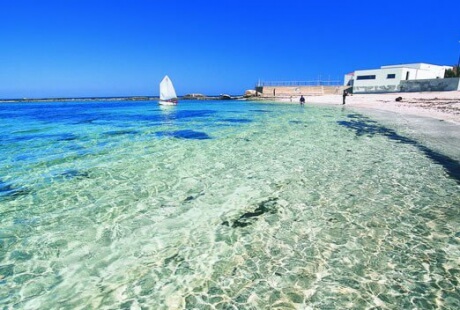 A major centre in ancient times, its fortunes started to slide under the Aragonese domination, between 1323 and 1479. Political and strategic reasons triggered a decline in commerce, and diverted attention from this once flourishing city whose busy port had been the only one linking Sardinia to Spain.
The population of Torres slowly shrank together with its importance until just two quarters remained – one perched on the Angellu hill, round the splendid Basilica of San Gavino (when nothing else is left, we cling to beauty); the other clustered round the port, which was soon to be reduced to a piteous state of abandonment.
This was a time of gradual oblivion, from which the city bounced back only from the mid-19th century, when the Savoy Kings gave new vigour to the port. Further progress came in the 20th century, when firstly mining activity and subsequently the petrochemical industry helped to repopulate Porto Torres. Between 1961 and 1971, the population increased by some 4,000 inhabitants. Porto Torres, which had come close to disappearing entirely, was reborn as a forward-looking centre, a beehive of activity.
But then in 2010, the economic downturn fell upon the city and the petrochemical plant was forced to close – hundreds of workers were placed on redundancy benefits, the future seemed bleak, and people took to the streets to demand work and help. Today, the site of the former petrochemical plant sees the birth of the Matrìca project which aims at transforming this industrial facility into an innovative "green" chemical factory, based on integration between agriculture and industry. Crucially, Matrìca should generate jobs for most of the former workers of the petrochemical plant.
Forgive us for not mentioning the natural and artistic beauties of Porto Torres, which are many and varied. It's just that today we wanted to speak to you about the city's cycles of death and rebirth, the cycles of all things on this earth.