Trolley
S'Archittu - and I too become an arch
Similar to a triumphal arch, a triumph of fullness and emptiness, a triumph of bright colours that capture one's gaze, bringing this natural monument in sharp relief.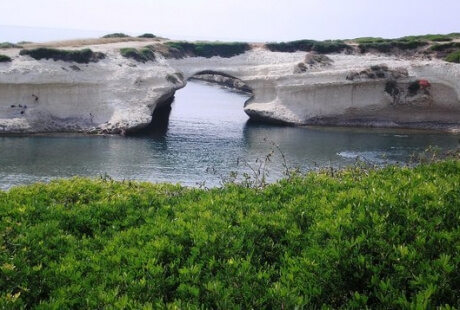 Located on the coast near Cuglieri, in the Province of Oristano, S'Archittu ('the arch') is a not-to be missed natural attraction, a stunning example of the quiet creative force of Nature.

Truth be told, in this case Nature has created something through destruction: this imposing arch about 15 m high looming over the sea is all that remains of an ancient limestone cave eroded by wind and wave. S'Archittu is the remaining cross-section of this cave, once closed and hidden and now an open place you can cross, as well as a diving board. Indeed the more daring visitors to this bay usually dive from the arch. Some choose a 'horizontal' visit and just swim beneath it, but others prefer the vertical and simply dive down.

But it's not only the imposing shape of S'Archittu that takes your breath away, it's also its dazzling whiteness. Made of limestone and fossil deposits, it forms a bright backdrop against which sky and sea, ever changing according to the time and seasons, offer a kaleidoscope of light and colour. The local authorities have decided to highlight the shape of S'Archittu on summer nights too, with a lighting system that makes it shine in the dark like a sliver of the moon that has fallen into the sea. But in winter too, when the lights are turned off, this rock emanates in the dark a sort of fluctuating luminescence – a lighthouse and gateway for those ferrying through the shadows.

A word of warning – the beach of S'Architttu is anything but large and the seabed is rocky (perfect for snorkelers). But just look at that arch, ladies and gentlemen! That arch makes you open your eyes and mouth just like a series of smaller arches: that arch makes us arches too, arches through which beauty may finally insinuate itself and flow.