Trolley
Sa Mandra, or the Art of Weaving Time
It's like weaving an asphodelus basket: this is Sa Mandra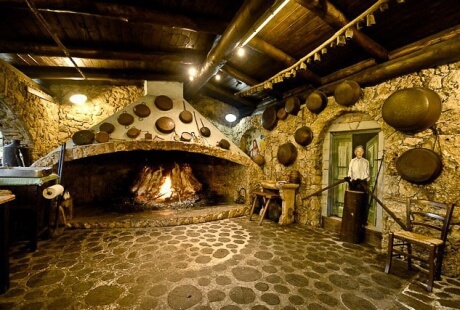 It's like weaving an asphodelus basket: this is Sa Mandra, an agritourism centre which we especially like and are happy to recommend to you, not least because it's in the countryside of Alghero, just a few km from town, hence it is yet another gem of our territory.
Why is Sa Mandra like weaving a basket? – In two ways: firstly because just like a basket Sa Mandra has been skilfully 'woven' over the years by its owners: Rita and Mario, and their children Maria Grazia, Michele and Giuseppe. This is not an improvised business which sprang up out of nowhere. Rather, it developed over time, gathering and weaving, like asphodelus stems, the ideas, passions, convictions and feelings of its founders, creators and managers. So today Sa Mandra is able to welcome and host its guests just like one of the marvellous hand-woven baskets made by our women.
And now we come to the second meaning of our simile: the link to the local peasant and craft culture: Sa Mandra has created a large collection of traditional Sardinian objects, with hundreds of exhibits, gathered together in 30 years of painstaking research. It's not just a museum, in the sense of a place for preserving objects. Rather, this collection tells a story, linking past, present and future, confirming that Sa Mandra is just like a woven basket.
Who will serve you excellent local dishes? Who can hold courses in traditional cooking? Who can offer an educational farm experience without giving the impression of simply following a trend? Only those who came to where they are today by travelling a long road, exploring and loving the past and seeing it as the passage leading to the future.