Trolley
Sails and whales – water sports at Alghero
We must recognise at least one merit to the African anticyclone which has been sitting over Italy for the last few days – at least it has brought us closer to the appreciation of water.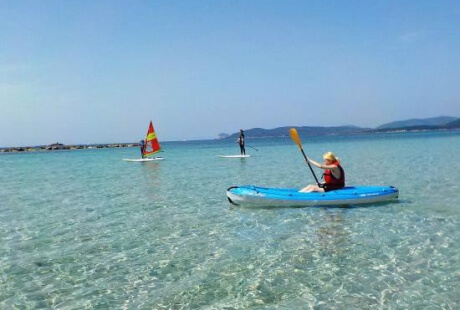 Our status as land animals suddenly appeared intolerable and unbearable. Creeping through the dusty burning streets, crushed beneath the weight of the heat, what we intensely wished for was that our lungs could imbibe oxygen from the water, we dreamed of the absence of weight of the fishes which gambol in the sea, we implored as if we were trout the splashes of a clear cool stream.
And it is this impelling need for cool water which has suggested today's post: water sports at Alghero. Apart from the 'pattìno' rowing boat (and its enduring appeal linked to the boom times of the 1960s), there are many water other sports to be enjoyed in Alghero's clear waters.
Since the beauty of Alghero also extends below the surface of the sea, the first sport which comes to mind is diving: the Marine Protected Area of Porto Conte offers a spectacular seabed, with vivid colours, abundant plant and sea life and twisting views of underwater rocks and caves. Several diving centres accompany divers to diving venues, provide boats and equipment and guide them in their discovery of this amazing underwater world.
But if you prefer remaining on the surface, the choice is ample: windsurf, kite-surf, stand up paddle, sailing, canoeing, with schools, associations and centres providing lessons and instruction to beginners and all the equipment needed to ride the seas. And not only the seas – how about a kayak trip along the inland water bodies, which are also magnificent and will provide you with a novel adventurous, almost arcane, view of Sardinia.
But there's even another possibility at Alghero, certainly more unusual, that is Whale Watching, the spotting of marine cetaceans. Yes, it's true this activity requires a mini-cruise, but you can easily forsake dances and your cocktail with a paper umbrella at poolside: this is a true sailing experience. To get where? To the Sanctuary of marine mammals, a sea area in the Italian territory between Sardinia, Liguria and Tuscany boasting the largest number of cetaceans in the whole Med. We can assure you it's well worth the time and effort: observing these immense, solemn creatures, listening to their musical calls, observing their evolutions in the sea is the nearest thing to finding yourself side by side with an archaic divinity.
All that's left at this stage is to wish you a truly enjoyable time and send you a wave from the coral bank from whose fronds we have decided to hide to write these few lines. Here, comforted by the sinuous caress of the currents, we're not even bothered by the impertinent gaze of the sea horse with tail wrapped round our pen.