Trolley
San Michele: a Dome of Colours
One of the many gifts Alghero has an abundance of is colours: you'll find them aplenty.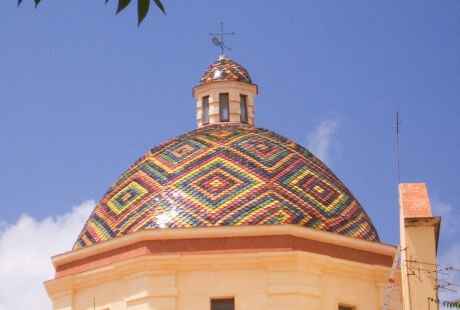 Who could catalogue them all? Some are made up of shades never seen before, conjured up for a fleeting moment by a fragile balance of changing elements: the slant of the sun's rays, wind, moisture, the sea conditions, a fleeting mood… Endless combinations that cannot be classified, far less recreated at will. Colour is a direct emanation of Alghero, a native property, one of the main ways by which the town impresses itself on us.
This is why the dome of the central Church of San Michele is one of Alghero's most distinctive landmarks. Its external cladding in shiny multicoloured tiles with bold geometric design embodies the town's multicoloured soul. The dome was designed in the 1950s by Antonio Simon Mossa, an architect and poet from Alghero, and by Cagliari-born painter Filippo Figari.
Standing out on the city's skyline, the brightly-coloured concentric motifs on the dome of San Michele translate into geometric shapes the colours that all around appear and disappear in a magic kaleidoscope of unrepeatable combinations. The dome of San Michele gives an orderly shape to the palette which Nature freely uses to improvise at all times, making colours hover above matter, just like scents. The concept of synaesthesia comes to mind. It is a rhetorical device that brings together in a phrase the impressions of two different senses: for instance a coloured scent or a scented colour.
Alghero is, in many ways, a synaesthetic town.