Trolley
Sardinia – an island of islands
Yes, there's no doubt, Sardinia is an island: this is quite obvious.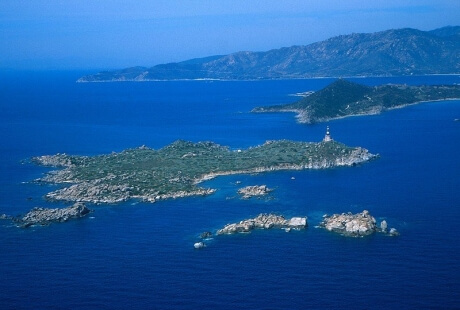 But it's an island with respect to what? With respect to the mainland obviously. However how should we think of it with respect to the 766 smaller islands and islets which surround it? Relative to them is it still an island or in its turn a sort of mainland? For example if by chance you should find yourself on the Isola dei Cavoli, 0.4320 km2 of granite facing Capo Carbonara, how would you look at Sardinia? Still as an island, or as a 'land'? Probably the latter. This tells us that the concept of island is subject to different degrees of intensity: you can extend it or contract it, you can concentrate on the land under your feet and let it suffice, or on the other hand you could think just how much sea surrounds you on all sides separating you from the rest of the world. The smaller isles surrounding the main island reduce its islandness, and contribute to make Sardinia a true world, with its satellites, its complex coastal geography, its offshore portions.

We have mentioned the Isola dei Cavoli which indeed is emblematic of our thesis: the lighthouse built on the island today is completely automated but at one time people had to live there to operate it. They formed the sole population of the island and one of them, perhaps exasperated by a sense of solitude, carved on a rock a phrase in Latin: 'Cavoli insula, carcer sine claustris', that is: 'Isola dei Cavoli, a prison without bars '. And yet this islet itself during WWII became an excellent refuge for those seeking to escape from the war, the same isolation experienced by the man of the lighthouse as a prison without bars was for these refugees a welcoming protection, a haven, a den in which to plunge for survival.

On the other hand, in the Sulcis Archipelago, Sant'Antioco, Sardinia's largest lesser island measuring 108.9 km2, is linked to Sardinia by a bridge: here the concept of island has been attenuated to the maximum thanks to the bridge. Indeed as Heidegger maintains, 'the bridge is what makes of two banks one place'. Sardinia's second largest island is Asinara, a prime example of an island that imprisons: a camp for war prisoners firstly, then a prison until 1997. Once the prison was closed, Asinara itself was liberated and reopened to the freedom of arrival and departure. On the other hand, a symbol of how an 'island' can also mean dissemination, is the splendid Archipelago of La Maddalena, where some of the most splendid examples of Sardinian scenery are set in a network of islets, as if a spider had woven a splendid web.

Obviously, we cannot mention here all the 766 islets of Sardinia. Indeed many are just uninhabited heaps of stone, without human traces, albeit rich in natural heritage and wonders for seafarers to discover. And here we find another meaning carried by islands: that of exploration, discovery, adventure, the comforting thought that not all of the earth has been trodden by human feet, seen and catalogued.