Trolley
Sweet memories of a Sardinian Christmas
Undoubtedly, Christmas is also a feast of delicious smells and flavours.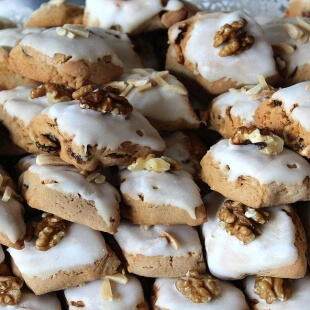 If in this period we remember more often and more intensely our childhood and get in touch with our inner child, this depends to a large degree on the wonderful smells that spring from the table at this time of year. The strength with which scents and flavours are able to conjure up childhood memories (albeit in vague, evanescent forms) is one of the more magic gifts of Christmas.

And what is better than sweetmeats and pastries to reconnect us with our childhood? Indeed, as children we didn't much like vegetables, we disliked fish for its bones, and we needed help to cut up meat, but sweets...we never got tired of them and couldn't wait to see them arrive on the table. In Sardinia, like in the rest of Italy, we bring them to the table together as an accompaniment to fruity scents: the vivid and intense smell of fresh fruit and the woody, smoky aroma of dried fruit. And indeed these are the scents that remain most in the house (and in memory). But in Sardinia which are the delicacies that traditionally mark the Christmas period?

Ladies and gentlemen, on your feet to applaud a white, simple sweetmeat, Sardinian torrone (nougat). What is really not to be missed is the variety from Tonara – almonds, Sardinian honey and egg white. That's all. No flavourings or added sugar, hence its characteristic colour, not pure white but tending to ivory, the ivory of our honey, a basic ingredient of Sardinian sweets. There are also varieties with walnuts, hazelnuts, pine nuts and orange and lemon peel: at all events, Sardinian torrone embodies the semantic mystery of how, using a few, simple elements, you can express endless others.

Another speciality which can never be lacking on our Christmas table is the pabassinas, also known as papassini, pabassinos, papassinos. If you are in any doubt as to which name to use, just point your finger, as a child would, or directly reach out and pick one up. They are biscuits of flour, eggs, sugar, lard and milk, but what gives them their name (and character) is the papassa, or pabassa, that is the sultanas with which they are filled. Very often the kids are entranced by the bright colours of the icing, which the most enthusiastic tend to lick with eyes closed in ecstasy, with dreams of a terrestrial paradise.

Finally, comes what is perhaps the most 'adult' of Sardinian sweets: Su Pan'e Saba. This is a very ancient oven product, with roots going back to remote times in which the sweets were not as sweet as they are today, because sweeteners were rare and costly. The pane di sapa was indeed bread with the addition of sapa to the dough, a dense, dark syrup obtained from grape must boiled for 8 – 10 hours over a low flame. This made the bread suitable for serving as a sweet at the end of a meal. There are numerous varieties of pane di sapa too: where walnuts or hazelnuts are added, or sultanas, lemon or orange peel or aniseed. Pane di sapa is the ultimate representative of the confections that bring sweetness to Christmas, where the ingredients mingle with ancient memories, almost memories of when we were not even born (and our mouths were already watering!).