Trolley
The ancient (and talking) olive trees of Villamassargia
Are you too planning to pay homage to 'Sa Reina', the Queen of Sardinia?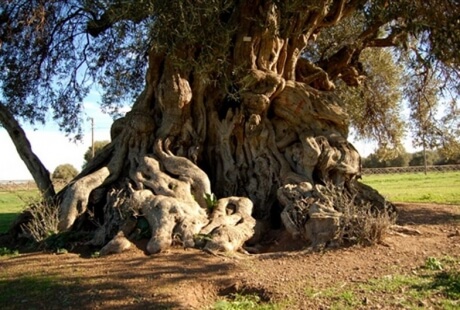 Perfectly easy: take highway 130, turn at the sign for Villamassargia and after just a few km you will find the imposing form of Sa Reina. Twisted, knotty, huge, superb, Sa Reina is the largest and most ancient olive tree in what is known as S'Ortu Mannu (the great grove), 13 hectares of park at the foot of Monte Exi, marked by its 700 great ancient olive trees all planted between 1300 and 1600 by the inhabitants of the area. From generation to generation, following the intricate routes of family histories, these plants have been handed down through the personal and at the same time, collective histories of the families of Villamassargia.
Even today, with S'Ortu Mannu as property of the Municipality, each of its olive trees has been entrusted for 99 years to the family that originally owned it and whose initials are carved into its bark. To give you some idea of the inestimable heritage we're speaking of, just think that Sa Reina has such a large trunk that it takes no less than 16 people to encircle it. Indeed, around these majestic trees, you have the impression that there is a link with long chains of human generations, as if they had never been completely overcome and buried by history, but had sought refuge and solidified in the abstract shapes of the trunks which have gradually grown in size, layer after layer, century after century, existence after existence. S'Ortu Mannu is the striking display of the imprint left by man on living wood.