Trolley
The Cave of the broken vases (and of full frames)
Is the frame part of a picture or not? Perhaps it is and it isn't.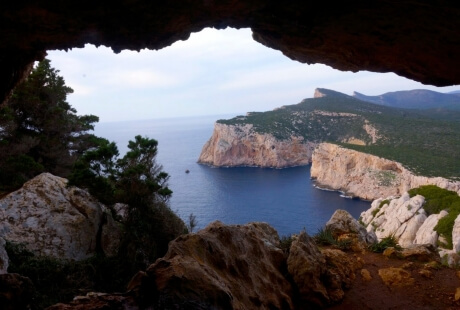 The frame acts as a boundary and shows the ambivalent nature of all boundaries: it opens by closing and closes by opening. The frame separates the picture from the rest of the space but, by circumscribing the picture, it also marks it out and concentrates it, allowing the space inside it to display its colours, perspectives, depths, shadows, lights. While the frame is not the picture, it allows the picture to present itself to us as such. Now, why have I started by talking about frames? Well, as an introduction to the Cave of the broken vases in the park of Porto Conte.

The cave is fairly easy to reach; you don't need to be an expert climber. From the panoramic viewing point facing the Isola of Foradada just take the path on your left. The walk takes about 20 minutes and it's not a hard slog, on the contrary, the inebriating, resinous scent of the Mediterranean brush will inspire your senses together with the majesty of the scenery. Don't make too many stops however, our goal is higher up: we're heading for the Cave of the Broken Vases.

But let me explain that the real beauty of this cave is not the cave itself, which, as caves go, is rather unexceptional – there are no primitive arcane rock paintings, there are no fantastic stalagmites and stalactites, there are no shiny minerals. The cave of the broken vases is a perfectly normal cave, quite simply a natural cavity in the rock. So why visit it? Well, because it acts as a frame – it's not what you see in it but what you see through it.

But just what is to be seen from the cave of the broken vases? You will see, dropping sheer into the sea, the infinite scenic wonder of Porte Conte. But since it is a frame, the cave focuses this view and puts it into perspective, so that our gaze does not wander too far, does not go beyond our capacity of understanding. The cave also intensifies the vision, because it focuses on the scenario, it sets it in perspective, it borders it and includes it. From this stony perimeter, what was infinite and indomitable can finally be cut to size on the basis of the aesthetic choice of observers, who are thus able to determine the viewpoint and the picture they like best and find most fascinating. The Cave of the Broken Vases is the ideal place to turn nature into art.