Trolley
The challenging Via Ferrata del Cabirol leading to Paradise
A word of caution – you may well skip this post if you're afraid of heights or are in poor physical shape.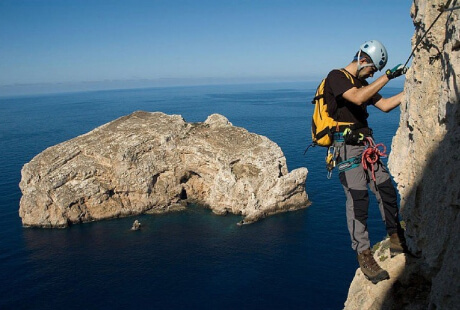 I myself have strong fingers, well trained by years of typing on the keyboard, but that's about it. And I suffer from vertigo. So you can imagine what it cost me to write about the 'Via Ferrata del Cabirol'.
We have already described Capo Caccia, this enormous limestone outcrop which closes off the Gulf of Alghero to the north, with cliffs dropping sheer into the sea from a height of 230 m. It's right on the western wall of this huge promontory that you will find the Via Ferrata del Cabirol.
Indeed its name might confuse anyone not too expert in excursions; so let's say at once that it is not a scenic railway line worthy of a coffee table book. The iron you will find here is only that of the anchor points of the cables which allow you to negotiate safely the narrow rocky ledges, with at intervals small vertical stretches – this is what makes up the Via, known as Cabirol (which means roe deer) because it is worthy of the these four-footed beasts known to be excellent climbers.
Suspended at a height varying between 150 and 208 m above sea level (which in this case is not just a conventional reference system, but something you can observe directly if you look down!), often having to proceed on tiptoes such is the narrowness of the path, you might feel akin to mountain goats. But more often, those who complete this route feel more like winged creatures. And the Eden-like unspoilt scenery, the dizzying height, the sweeping vistas make one feel closer not just to common birds, but to angels.
But make no mistake, the Via Ferrata del Cabirol is not for everyone: it is a route classified as being of medium difficulty, to cover it you need the right equipment and a modicum of experience. No, you're not born an angel – but perhaps you can become one!