Trolley
The dunes of Piscinas and philosophical questions
The dunes of Piscinas – what an incredible place! How come we haven't yet mentioned them yet?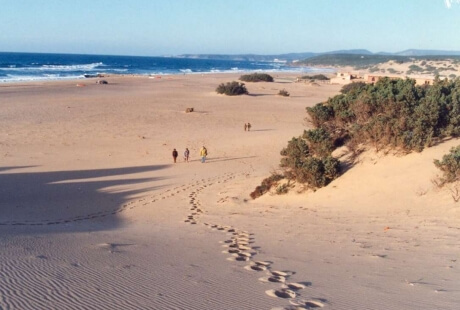 They are some of the highest living dunes in Europe, up to 100 m high and living because they are constantly changing in accordance with the whims of the wind, which can make them taller, shorter, curved, straighter, even changing their position, just like a finicky housewife never content with the arrangement of her furnishings. Ever changing, these dunes are a fascinating reply to the question "why is there something instead of nothing?" Actually, there is something, but it's only temporary – the 'nothing' shapes and models its appearance.

This place in which being and nothing draw inspiration one from the other is striking also for the human imprints it bears. Scattered around are the traces of the area's past mining activity. The very waters of the Rio Piscinas, a stream which flows out to sea here and which you must cross to reach the beach, have an unusual reddish-rust colour, because they are mixed with the waters from some of the abandoned mines. So this 'red river' is a living example of industrial archaeology; and if it's true you can't swim twice in the same river, the Rio Piscinas echoes the same eternal transformation of the dunes that rise around it.

And what can we say of the beach and the sea at Piscinas? It's almost like swimming and sunbathing on an alien planet: X-files Sardinian style, which will fulfill your sci-fi fantasies or your very understandable wish to leave Planet Earth for a short while.