Trolley
The 'Fairies' House of Sedini
According to Sardinia's folk legends, certain cavities dug out of the rock, scattered in the interior of our island, are the homes of the 'janas', the fairy folk, tiny magic creatures, generally harmless unless disturbed, in which case they might become mischievous and even a little dangerous.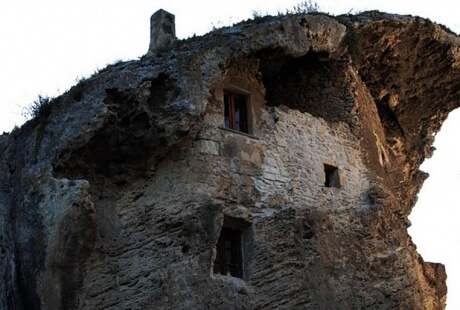 To tell the truth, I have never come across the 'janas', nor have I ever disturbed them by disrupting the peace of their remote homes, which in actual fact are prehistoric chamber tombs. Better not to hurt the feelings of what doesn't exist, since for that very reason they might begin to exist, and that would mean trouble. While most 'fairies' houses' are situated in the countryside and are small or medium in size, there is one set right in the heart of the historic centre of a town and having a size which spreads over an area of some 129 m2, set on no less than three floors: this is the Domus de janas of Sedini, the largest house of the fairies in all Sardinia.
Sedini is a small town of some 1300 souls, in the province of Sassari, about 80 km from Alghero. But it's well worth the trouble to make the trip to admire the spectacle of this imposing, extraordinary, crooked, dreamy house, dug out of a sandstone rock as tall as a three-storey building. This carved-out rock combines nature and architecture, blended and knitted together so that they communicate and exchange characteristics and properties.
In the Domus de janas of Sedini we find together geology and human history, as humans transformed and adapted the rock to their needs continuously from the IV or III millennium BC to modern times. Just think that between the late 1800s and the early 1900s it was even used as a prison: presumably, the fairies living there were not too enthusiastic! They must have been even less enthusiastic when it was used as a stable, or even as a shop. But what must have really sent them over the top was when it was used as the office of a political party!
Today the fairies of Sedini must have found a little peace and quiet, because their exceptional home has now been turned into a museum of the country life of Sedini and the Anglona district. A smart move, which finally pays homage to the many generations of men and women who tirelessly dug and sought bare-handed in the depths of the stone a way and a place to live.