Trolley
The Great Bogomarì (sea urchin) Event
Let's imagine you own an extremely precious gem you want to protect from thieves.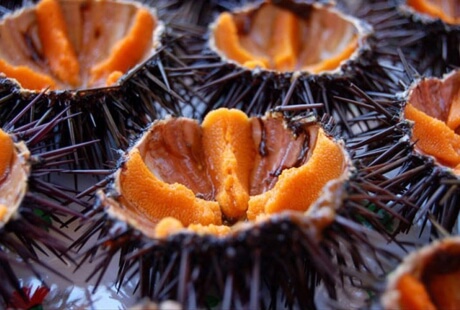 Obviously, your first thought would be to construct a suitable hiding place. For example, you might decide to place it inside a sphere which was strong and durable. Then you might cover the surface of the sphere with sharp needle points, so that even to approach it would be dangerous. Well, there you are – that's more or less what the sea has done with the sea urchin: it needed to preserve the essence of its flavour and thus decided to hide it in a sphere protected by sharp points: the sea urchin is just that – a sort of armour, a safe, a security system, an armoured casket. If you do manage to open it, the pleasure of tasting this divine gift of the sea is yours.
However, each sea is different; each has its fragrance, its taste, and its nuances. Each sea carries scents of the land it bathes, perceptions of purity, reflections of transparencies. The seawater of Alghero for example has a flavour of coral: indeed the roe of its best sea urchins is as red as the coral collected in its depths. The sea of Alghero produces red-coloured delicacies and masterpieces. This seems to be its talent.
But leaving aside impressions and fantasies, there can be no doubt that the sea urchins of Alghero are a delicacy which reflects entirely the beauty, richness and generosity of our sea. Whether used to dress refined recipes or quite simply enjoyed spread on a slice of crusty bread, this roe is an intense mouthful breathing the aroma of our sea – it's like tasting our sea. So we suggest that you make every effort not to miss, during the period 7 Mar – 11 Apr, what is known as the Sagra del Bogamarì (which in Alghero-speak means "sea urchin").
A host of restaurants are involved in this event; this year tastings will be held at the Market and of the first catch at the port in which the fishermen themselves will serve you the bogomarì opened before your eyes. But why hold this event in the winter time? Because that is the season in which the sea urchins give off their most intense scent, pure, crystalline and romantic. If in life, you go in search of treasures, this is the right moment to find them at Alghero.