Trolley
The Mistral Wind at Alghero
Everything flows – not surprising with this wind! Everything flows, flies, dips, tears, wheels, drops, echoes.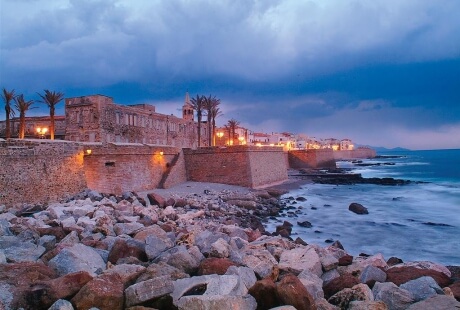 Alghero is a "windy" city, or perhaps we should say that it's just like the wind because of its openness, the way it trustingly spreads out to the world. And if you ask which is Alghero's signature wind, there's only one answer – the Mistral.
A wind blowing in from the north and then over the Pyrenees, it funnels into the Rhone valley, where it picks up speed as it rushes down the steep downwind slopes. It then blows out to sea, furious and eager to spread like an invisible avalanche, a stream of pure energy. It runs over the sea, it envelops and buffets the water, ruffling its surface and heaving it into angry waves. The mistral and the sea forge an alliance and together reach Sardinia to conquer it with their wild, tempestuous nature.
Those are the Mistral days, accompanied by the thunder of the angry seas, by the sand which rises and flies around you, the flurries of dead leaves, the wailing sounds of the boats moored at the marina. There is something wild, untameable and sublime in this spectacle which transforms Alghero into a mighty force of nature. Then comes peace as the wind finally drops and dies away: the calm after the storm, as people and boats set out again.