Trolley
The Park of Le Prigionette: albino wonders
White donkeys – could there be a more fantastic beast?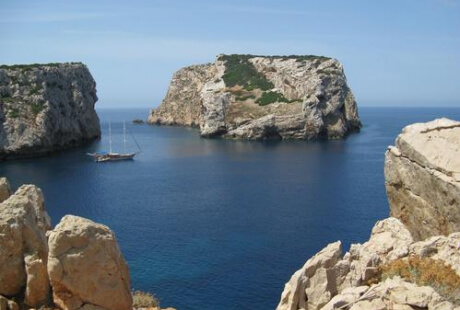 Equine clouds, immaculate hooved entities, with a sly look which seems to say: "Yes we know, we're soft and beautiful and we take full advantage of this with the tourists!" To enjoy the sight of these striking creatures roaming freely in nature take a short trip to the Prigionette Park, which also has a host of other wonders to show you. And it's only 15 minutes from Alghero, on the road to Capo Caccia: you really have no excuses to miss it.

You can explore it on foot, by bicycle or, for short stretches, by car – although we certainly don't recommend the latter! To fully experience it you must immerse yourself in the colours, be dazzled by the rugged rocks, smell the scents of the Mediterranean brush growth. You can take any one of a number of trails, one of the most scenic ones will take you to Cala della Barca which offers a breath-taking view of Isola Piana from the summit of a limestone cliff, white and tall like hundreds of white donkeys set one upon the other.

Another exceptional trail is the one leading to the top of Monte Timidone (the shy mountain). Belying its name that suggests an introverted and inward-looking place, the top of Monte Timidone offers a wonderful all-embracing view, upwards and downwards, inside and outside you. A truly mystic experience, another way of reaching those transcendental joys which come from the realisation of just how small and insignificant we are when seen against the immense backdrop of nature.

And, last but not least, if you take care not to make too much noise, you might come across these fascinating albino donkeys – and I ask you, who on earth could get tired of admiring an albino donkey?