Trolley
The perfection of the Sardinian spiny artichoke
Many plants growing on our island are hairy, twisted, knotted, prickly, spiny.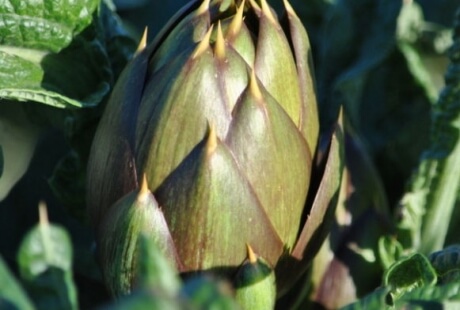 Don't take this as evidence of hostile and scrimping nature. See it rather as a sign of uncontainable life which manages to grow even on the rocks, exposed to the harshest winds, burnt by an unforgiving sun, which loves and defends itself against all evidence, even at the cost of protecting itself with a few thorns. The Sardinian spiny artichoke is perhaps well aware of being delicious, appreciated by many, and that's why it has armoured itself with pointed spines of a distinctive yellow colour. This does not deter us from eating it, but if we should prick ourselves as we clean it, let's just take this as moving testimony of the vital wish to live of this delicious vegetable.
The spiny artichoke is one of the most authentic Sardinian things you could hope to find, a perfect allegory of the casket of jealously guarded treasures which is the ultimate essence of Sardinia. Avoid the spines, peel off the hard outer leaves, and you will find the tenderness of its interior, a perfect blend combination of sweet and bitter flavours. But, allegory aside, let's just point out that the Sardinian artichoke is delicious and different from all other artichokes. Excellent either cooked or raw, it lends itself to many recipes: artichokes with grated mullet roe, stuffed artichokes, artichokes with potatoes, fried artichokes, fregola with artichokes,' Sardinian gnocchi with artichokes, spaghetti with artichokes and sea urchins, lamb with artichokes, cuttlefish with artichokes, artichokes pickled in oil etc.
If you think about it, how jealous we are of the artichoke's perfection! It fits in well with the verses which the great Polish poet, Wistawa Szymborska, dedicated to the onion:
Nature's rotundest tummy, its greatest success story, the onion drapes itself in its own aureoles of glory.
We hold veins, nerves, and fat, secretions' secret sections.
Not for us such idiotic onionoid perfections.