Trolley
The Port of Alghero – the Mirror of Alghero
Now, here we are at last - a few words about Alghero's tourist port.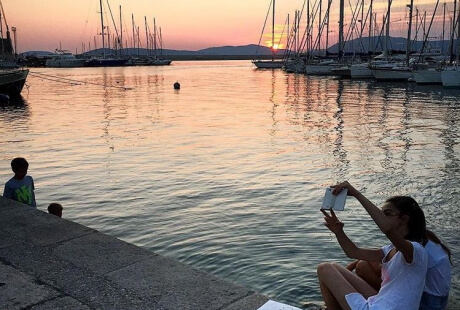 If we haven't mentioned it before, the only reason is that we always have it in view and as is well known, having something always in sight very often annuls word descriptions (just compare 'mysticism'). Our hotel is in fact very close to the port, it overlooks it, standing as a beacon full of people and life. What we like most about this position is the idea of liberty which is instinctively associated with all ports. What's more this continuous hither and thither, arriving and departing, is very similar to our own work: any hotel, if you come down to it, is a seaport. So a hotel situated near a seaport is basically a hotel close to its own metaphor. Consequently, a stay at the Catalunya means having at your fingertips not only the sea, the various watering holes and the historic centre of Alghero, but also a good amount of resources to put your experience in words– certainly not something to be underestimated!
So, here we are – Alghero's port – we might even maintain that it forms the very historic reason for Alghero's existence: it was in this natural bay that the Genoese ships stood at anchor in the 12th century, while the first nucleus of the city was being built. For centuries it was a landing point of many important Mediterranean routes. And it also took on a strategic military role during the Catalan and Spanish domination. Just think that the quays known as Banchina Dogana and Banchina Sanità are set right below the ancient curtain walls, as if to demonstrate that there is no true interruption of continuity between the port and the city, which indeed when reflected in its calm waters, seems almost to recognise itself and smile with placid, confident pride.