Trolley
The Rosello Fountain: the relationships created by water
If you visit Alghero, a quick trip to Sassari is a must.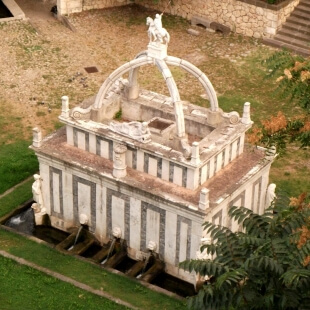 But where to begin? It's certainly not a village, a hamlet or a bay; you can't encompass it with just one glance. Sassari is a true city, complex and diverse like all cities: an urban mosaic in which the remote past blends with the signs of more recent periods, while at its margins time is already weaving the future (for better or for worse). So, where to start? Perhaps from what many consider its symbol – the Rosello Fountain.

You're in luck – after a period of closure for maintenance and refurbishment works, the fountain has finally reopened to the public (with set visiting hours). The Sassaresi grumbled quite a bit about the closure. The fountain is a symbol of the city not only for its architectural worth, but also for its traditional function within the city. For centuries, the Rosello fountain was the main source of drinking water for Sassari. While today of course it no longer plays that role, its accessibility is still seen as a vital right of the community.

At the end of the 19th century the city still had about 300 'water carriers', men who collected water at the fountain in small barrels and delivered it on donkey back to people's homes. Supplying this precious resource from its carved spouts (eight lion heads and four dolphins) this beautiful late-Renaissance fountain was the hub of a network of relationships linking all areas of the city around a primary, elementary need – that of water. Traces of this relationship have remained imprinted in the spirit of Sassari, similar to aquifers sounding from the deep.

The Rosello Fountain can be visited from Tuesday to Saturday, from 10 am to 1 pm and from 3 pm to 6 pm; on Sundays, only from 10 am to 1 pm. On Mondays and public holidays the site is closed.