Trolley
The Sartiglia of Oristano
If you're not interested solely in the pranks and role-reversal aspect of Carnival, but also wish to delve into its heroic-mystical-epic elements, the Oristano Sartiglia will certainly give you what you're looking for.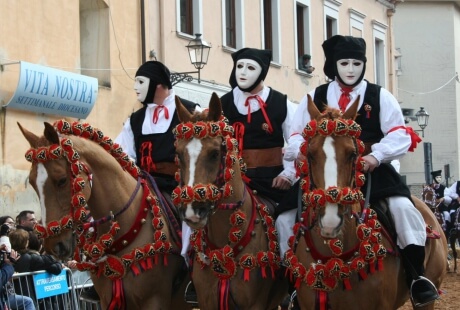 To be frank, it's difficult to witness a more mysterious, esoteric, sacral and vital carnival event than this.

Basically, it's an equestrian joust, one of those events which permitted the winning knight to take as his wife the ethereal daughter of the king. What makes it different is that in this event several completely different elements have been added with various meanings. Assuredly we can admire the equestrian skills of the riders: their trick riding and skills in centring the "star". But there are also other Christian rites, those of penitence and communion, just as there are pagan rites linked to the fertility of the fields. The word "sartiglia" came from the Castillian "sortija": as you will appreciate it was an event tempting fate for those willing to risk breaking their necks by riding crazily, but it also contains elements of a propitiatory act of fortune for those who have a field of crops or a business to work on.

The spectacle of one hundred and seventeen masked horsemen, riding richly caparisoned steeds – we can assure you – is an inexplicable mystical vision. And then there's the key figure: su Cumponidori. Everything revolves round him, everyone is his fan, they admire him, they seek his blessing. A semi-divine creature, neither male nor female, a man made more than a man by the hands of woman, those of sas Massajeddas, who are in charge of his slow ritual robing which culminates in the positioning of the mask, sewn to his face, and the setting in place of his top hat. Until the end of the race, su Cumponidori's feet will not touch the ground, he will always remain on his charger. You will see him proceed in a stately, proud manner intent on driving off the evil spirits, challenging other horsemen, giving his blessing with sa pippia de maiu: a sceptre consisting of a double bunch of violets.

It will be su Cumponidori who decides when the pageant may be considered over. Only then will he return to sas Massajeddas who will disrobe him, divesting him piece by piece of his divine dignity. The robe makes the god. Perhaps this too is one of the lessons of the Sartiglia?