Trolley
The sense of Christmas at Alghero
'Mès que un mes': more than a month. That's the title of the rich calendar of events prepared this year at Alghero for the Christmas festivities.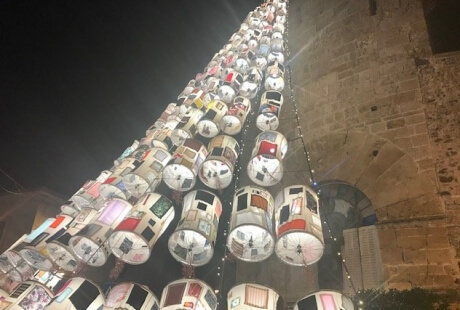 Celebrations began on 8 December last with the lighting of the Christmas tree at Porta Terra, and will end on 20 January next, when we shall all have begun our voyage into 2018. Gospel and jazz, world music and band music, entertainment and street theatre, installations and shows, book presentations and conferences, shops and street markets: the question 'What shall we do today ?' has no reason to be asked at Alghero, especially in this period.

However, even if we should decide to do nothing – a perfectly legitimate choice – even if we wanted just to stroll about, relax, take deep breaths of sea air, fill our eyes with light, colour and novelties, even in this case Alghero would be well worth a visit: for the wild and sublime hues that at Christmas light up its sea waves, its promontories, its massive fortifications, and for the more intimate and comforting lights along the narrow streets of its historic centre, covered in the many-coloured fabrics of famous Alghero stylist Antonio Marras.

To sum it up, if you love Christmas, you'll love Alghero too; if on the other hand, you don't love Christmas, at least you'll love Alghero. At all events and in any case, here you'll find love. And that's our very personal Christmas best wish for you all, dear friends: that you may always find someone or something to love.

So, a very merry Christmas!