Trolley
The "Setmana Santa" seen through the eyes of a High School student
The "Setmana Santa", Holy Week, has by now begun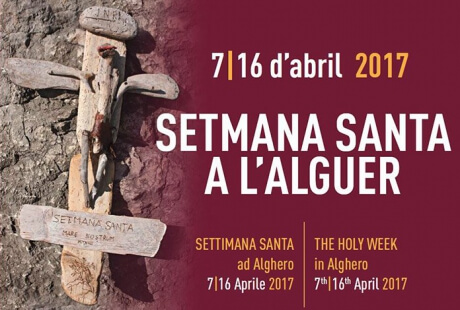 Alghero is wrapped in a mystical scarlet shroud, the street lights are veiled in red, the Mystery of Easter lives again, because it has permeated the whole city: you can walk through it, you can see it shimmer over the sea, you can feel it waft from the boats in the harbour as if it were a form of tension holding them immobile.

Easter in Alghero is something grandiose, a true collective event which is played out in processions of great scenic and emotional impact. So it's clear that all its citizens are involved: and this includes the Art High School "F. Costantino" in Alghero, whose students were asked to think up a work embodying the spirit of "Setmana Santa" 2017. At the end, the winner was chosen - Daniele Meloni, a fifth-year student of the Art School, so his creation now holds pride of place on the official poster of the event.

Daniele's fine work is entitled Mare nostrum and we really like it so we decided to describe it to you. It's based on a cross created out of driftwood and flotsam picked up along the sea shore, so basically it's an example of primitive art, a reciclaje, conceptually extremely powerful. In those pieces of old wood, in that cross, itself almost a shipwreck, we can feel the desperation of all those who have lived their Calvary on the waters of the Mediterranean. But since the pain of those losses is placed in a cross, we can also see the hope or promise of a resurrection, an attempt to come to terms with the senseless tragedy of lives lost at sea.
On the other hand, we can also see in Daniele's work the representation of what each one of us is, deep down, that is the fortuitous outcome of the play of currents which have brought our history to land on a certain shore among many other possible shores. The representation of our fragile, yet precious, inessentiality.