Trolley
Trottolo: Discovering Alghero with an Open-top Bus Tour
Alghero is so rich in beauty and attractions that exploring its alleyways on foot involves a double risk: getting lost or becoming fixated on some places, and failing to discover the rest.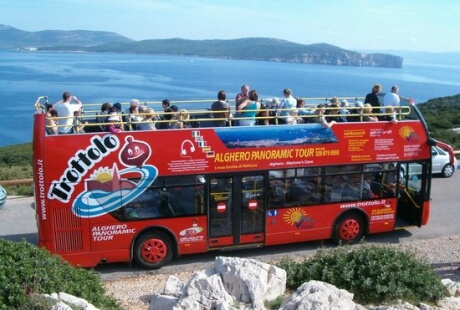 In this blog our aim is to ensure that nothing is left out, to highlight the many facets of our land and suggest itineraries that link places only apparently distant.
But to get a first overall idea of Alghero and capture its essence, why not hop on its open-top tourist bus: Trottolo. It provides a panoramic tour of Alghero and its surroundings with a guide, a complete service giving you a good idea of the town's best scenic, cultural and historic attractions.
From Alghero's historic centre to the looming promontory of Cape Caccia this is an exciting journey through many layers of history and nature. Of course, you won't be able to grasp everything at once, but you will get a general feel for the place and decide which places you want to explore more in depth. So we do recommend you take this bus tour and discover Alghero in one go.