Trolley
Who will save the roses?
Yes, that's the question – Who will save the roses?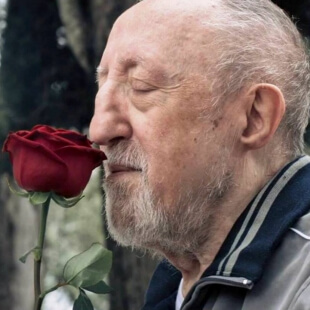 A tricky question and a pressing one too. If there should be a rose to save, who wouldn't do his very best to save it? Who wouldn't ask himself what could be done to save it? To save what? The rose? Not the rose, but above all the innate beauty of each rose, as if it were a delicate casket. And this is the meaning of this film's title, the first work of our fellow citizen Cesare Furesi, a film which has Alghero itself as backdrop or, perhaps we should say, leading player, together with other famous Italian actors such as Carlo Delle Piane and Lando Buzzanca.

Delle Piane plays the role of Attorney Giulio Santelia – does that ring a bell? Right, the unforgettable poker player of Christmas Present of Pupi Avati. Well, he features in this film of Furesi's too, the difference being that here we see his other side, the alternative to the cynical, infallible gambler: we see his other side, the side of the roses. Indeed Attorney Santelia has a lover and this lover is a man, Claudio, played by Lando Buzzanca. The fact is that Claudio has been bedridden for years because of a "strange sickness", as he himself defines it. Giulio looks after him, alone: roses need constant attention. And indeed it is a rose which our attorney takes his companion as a gift every day. In the same way, Giulio attempts to save Claudio from an ominous truth: the money is finished, everything in their splendid villa has been re-possessed and taken away by the Bailiff. But there comes a time when it's no longer possible to go forward alone and so here come to the rescue Giulio's daughter, Valeria (Caterina Murino), and her son, Marco (Antonio Careddu), who will prove to be truly indispensable if there is to be any hope of saving the roses.

So, if you want to re-visit Alghero without moving from your town, go and see this film – you will be enthralled by this senior love, but also no less by the splendour of our town, captured on film in all its intensity and range of colours. We repeat – go and see it – it's really worthwhile, at least in that it allows you to understand that there are always roses to be saved, as also Italian poet Dino Campana bitterly learned from his own difficult life story:
"The roses have faded
Their petals fallen
Because I could not forget the roses
We searched for them together
We found some roses
They were her roses and my roses
This journey we called love
With our blood and our tears we made the roses
Which shone for a moment in the morning sun
We faded them under the sun amidst the thorns
The roses which were not our roses
My roses and her roses
P.S. That's how we forgot the roses."