Trolley
Wind Sardinya: the sense of the sea for Alghero
Since at Alghero the mistral wind is a continuing presence which makes the sails billow and ruffles your hair, it's quite normal that faced with our sea you feel very strongly the typically Mediterranean instinct to find a boat to cleave the waves. But why bother to go on board?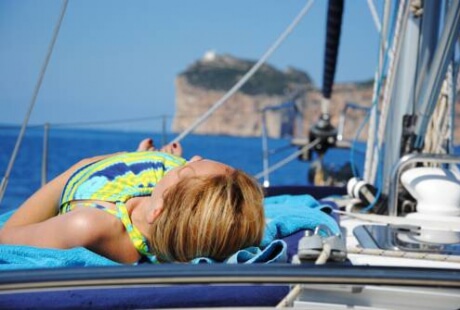 If you come down to it one reason is worth the other: nostalgia for Ithaca, the obsession for a white whale, the impelling need for a passage to the north west or quite simply, the desire to aim for wider horizons than the few inches of the screen to which our eyes are normally glued by work or habit.
Good, if apart from feeling this instinct you also feel the need to explore it, the best thing is to get in touch with Wind Sardinya, a company which will provide you with boats and sails perfectly suitable to fulfil your dreams starting from the port of Alghero (the ideal starting point for each and every imaginary destination). The company was founded 16 years again through the initiative and imagination of three young men with sailing in their blood and nowadays Wind Sardinya is a nautical charter company specialized in rentals – with or without a skipper – of sailing boats.
Yes, it's true, sailing boats have their own atavistic aura of charm, almost a part of the wind itself, that prime force of nature which man has managed to conquer to explore the world around him. These boats are certainly one of the most original means of crossing nature, carried by nature itself. And that doesn't mean that sailing boats are not comfortable. The fleet of Wind Sardinya consists of brand-new boats, with state of-the art technology and quality furniture. So you can experience the archaic fascination of being borne along by the wind, while enjoying the style and comfort of our modern times.
Where can you travel with Wind Sardinya from Alghero? Just one question – but many replies. To the north for example, to Stintino, to the Island of Asinara or the Archipelago of La Maddalena, to the Costa Smeralda, as far as Corsica; to the south to Bosa Marina, the island of Mal di Ventre or Carloforte; to the west, to the Balearic Islands.
But apart from the longer itineraries there are also day trips within the Marine Protected Area of Capo Caccia with its splendid bays only reachable from the sea. Not forgetting night-time trips. As you know, that's the time when the sea reveals its most romantic and at the same time its wildest metaphysical aspect, it's the time when utterances generally somewhat weighty such as "I love you" take on the solemn sense of a mysterious prophecy.