Trolley
Winter flights to Alghero, for the 2015-2016 Season: a Geography of Escape
In winter too you can make your escape to Alghero at any time, to enjoy a well-deserved break, starting from various points of the compass.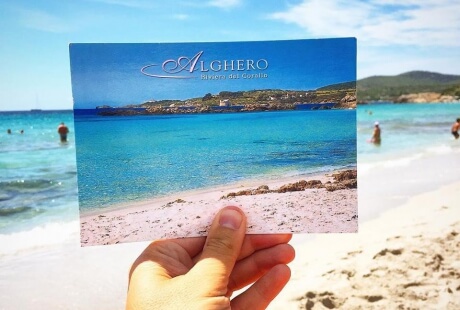 Just a few examples of the cities served by local airports.
You might be in Bergamo, strolling along the massive walls which Venice, by then disappointed in the sea, built in the 16th century round the old city. The temperature is just cold enough, the view is exceptional, we breathe in the scent of history. But one thing is missing – the sea, made choppy by the wind. So why not hop on a plane at Orio al Serio Airport and make a leap to Alghero: there are walls here too but from them you can see, and indeed almost touch, the sea.
And what about Bologna? Such a beautiful city one can easily decide to make it one's home town. Yet, at times, you might feel just a little restless – perhaps a bit tired of the bongo drum playing in Piazza Maggiore and of the porticoes which offer shelter in bad weather but also hide the sky. So it's an easy choice to hop on a plane and take in the vast expanse of the sky from our Blau Skybar.
Cuneo, as the great Italian actor Totò used to say, is a city of sophisticated people: for them, catching a flight to Alghero is just as easy as sipping an espresso. They might say in the local dialect "Vun a spané mure!" literally "I'm off to gather blackberries" that is "I'm making myself scarce". And if people from Cuneo can do it, just think of someone from Milan – a quick glance at their Blackberry then off to Linate Airport ready to fly to Alghero.
At Pisa, from time to time, the Arno river gets sombre, its waters turn dark and choppy. It inspires you with melancholy poetry, beckons you to follow it to the sea. You can follow it from the sky, on a plane taking you to Alghero: then perhaps a drop of water from the Arno will reach the shore, and you will be able to recognise it among all others.
You can also fly to Alghero from either of Rome's airports, Ciampino or Fiumicino. And what if all roads lead to Alghero? What if Alghero is in fact Rome? That's what they ask themselves too at Barcelona, Bratislava, Brussels , Bucharest, Eindhoven, London, Madrid and Munich, whose inhabitants frequently land here. Who knows, perhaps even the freshwater springs of Treviso were linked to Alghero through a mysterious route running below ground long before the Treviso-Alghero air link.
Do you realise in how many languages and dialects people say: "Let's go to Alghero"?